Are you tired of the same old generic trophies and plaques at your events? Do you want to make a lasting impression and create a truly unforgettable experience for your attendees? Look no further! TALLMAN.PROMO is here to revolutionize your event planning with our extraordinary custom awards.
At TALLMAN.PROMO, we understand that events are more than just gatherings; they are opportunities to celebrate excellence, honor achievements, and inspire others. That's why we believe that award presentations should be nothing short of extraordinary, leaving a lasting impression on both the recipients and the audience.
Gone are the days of settling for mainstream, off-the-shelf awards that lack personality and fail to capture the unique spirit of your event. With our custom awards, you have the power to create something truly exceptional, tailored specifically to your event's theme, brand, and audience.
One of the key advantages of our custom awards is versatility. Whether you're organizing a corporate gala, a sports tournament, a non-profit fundraiser, or any other special event, our talented team of designers can bring your vision to life. From sleek and modern designs to elegant and refined creations, we have the expertise to turn your ideas into stunning reality.
Not only do our custom awards offer unmatched visual appeal, but they also boast superior quality. We understand that only the best will do for your event, which is why we use top-quality materials and the latest manufacturing techniques to ensure the durability and lasting beauty of our awards. Whether it's crystal, acrylic, glass, metal, or any other material you desire, we guarantee premium craftsmanship that reflects the excellence of your event.
What truly sets our custom awards apart is the unparalleled level of personalization we offer. With TALLMAN.PROMO, there are no limitations when it comes to design work. We believe that every event is unique, and your awards should be too. From intricate engravings and vibrant color options to incorporating your company logo or event branding, our custom awards can be fully tailored to match your exact specifications, creating a truly one-of-a-kind keepsake for your recipients. Our award styles range from recognition awards, plaques, medals, trophies, custom metal coins, and any other kind of award you desire!
But our commitment to excellence doesn't stop there. At TALLMAN.PROMO, we pride ourselves on delivering exceptional customer service. Our dedicated team of experts will work closely with you every step of the way, ensuring a seamless and stress-free experience. From conceptualizing the design to production and delivery, we'll go above and beyond to make sure that your custom awards exceed your expectations and arrive on time for your event.
In addition to our local presence, our global reach enables us to serve customers around the world, making TALLMAN.PROMO the go-to choice for international events and clients. No matter where you are, we'll make sure that your custom awards arrive safely and in perfect condition.
So, let's unlock the potential of custom awards together and elevate your events to unforgettable heights! Contact TALLMAN.PROMO today and let our innovation, quality, and personalized service transform your event into an extraordinary experience that will be remembered for years to come. With custom awards from TALLMAN.PROMO, your event will be nothing short of extraordinary!
Tall Man Promo had the pleasure of working alongside Atlas Global Brands to create the display units for D*gg Lbs, Snoop Dogg's newest cannabis products which will be sold throughout Canada, Israel, and will be coming soon to the United States of America. Our team was also working alongside this talented team to create stickers, as well as a retractable banner and podium sleeve for the product launch.
This 3-Dimensional product display was designed in collaboration with Atlas Global Brands and our very own, Matt Cooper, based upon Snoop Dogg's career, past experiences and interests. The final free-standing display unit was created with laser cut acrylic and vinyl to create a 3-dimensional effect, illuminated with blue backing lights and a brightly coloured design.
Check out some pictures from their launch below!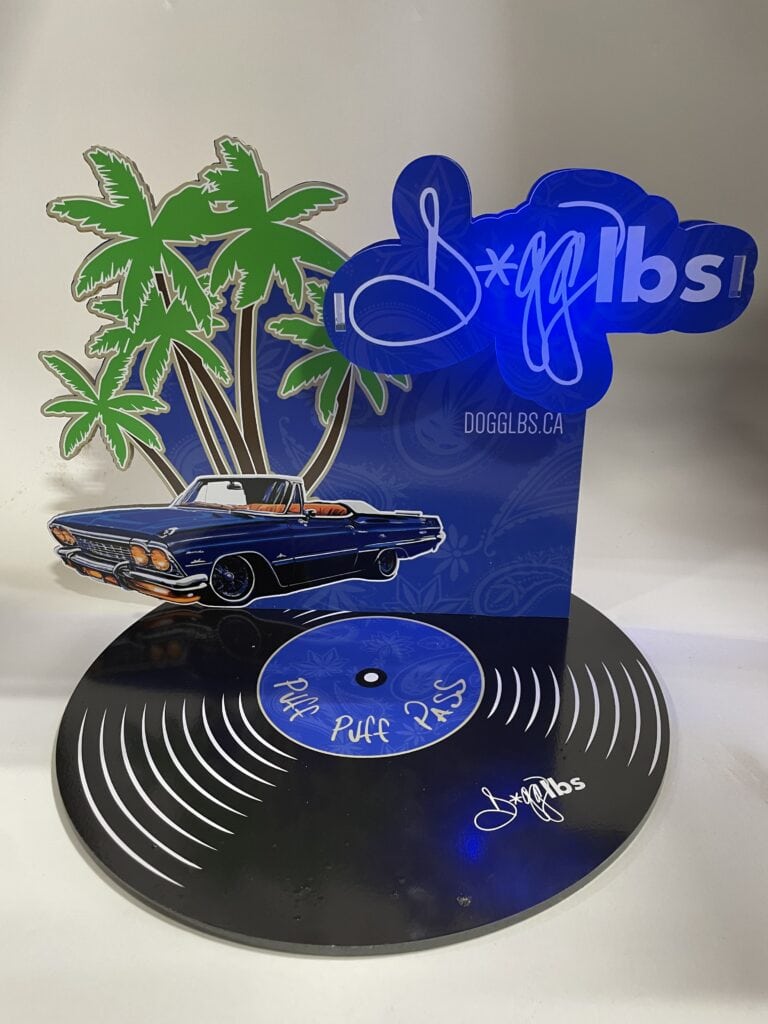 Custom apparel has been a growing trend in recent years. More and more businesses and individuals are turning to custom apparel to promote their brand, generate revenue, and build camaraderie. This creative route offers a variety of benefits that make it a smart choice for anyone looking to showcase their brand, event, or personal style.
Benefits of Custom Apparel
Promotes Brand Awareness
One of the biggest benefits of custom apparel is that it promotes brand awareness. Putting your logo on a t-shirt, hoodie, or hat can create a walking billboard for your brand. Custom attire is a cost-effective way to get your brand in front of more people, whether it's at events, trade shows, or everyday wear.
Builds Camaraderie
Custom gear can also be used to build camaraderie among groups. Whether it's a sports team, a volunteer group, or a work team, having matching custom garments can help create a sense of unity and teamwork. It can also help create a sense of belonging and pride in being part of the group.
Generates Revenue
Custom apparel can also be used to generate revenue. Whether it's selling shirts at events or online, custom apparel can be a profitable venture. With so many options for customization, you can create unique items that people are willing to pay for.
Differentiates from Competitors
Custom apparel can also help differentiate your brand from competitors. By creating custom designs that reflect your brand's personality and values, you can stand out in a crowded marketplace. Custom apparel can be a valuable tool in creating a unique brand identity that resonates with your customers.
Conclusion
Custom apparel offers a wide range of benefits for businesses, organizations, and individuals. From promoting brand awareness to building camaraderie, custom apparel can help achieve a variety of goals. With so many customization options available, it's easy to create unique items that reflect your brand's personality and values. In short, custom apparel is a smart choice for anyone looking to showcase their brand, promote an event, or build camaraderie.
CLICK HERE to start your custom apparel order now!
If you're looking for a way to promote your business that is sure to turn heads, look no further than vehicle wraps. These eye-catching, attention-grabbing signs can be attached to any vehicle, turning it into a mobile billboard that promotes your brand wherever it goes.
What are Vehicle Wraps?
First things first, what exactly are vehicle wraps? Essentially, they are vinyl sheets that are designed to fit over a vehicle's exterior, completely covering the paint and creating a blank canvas for your branding. These wraps can be customized with any design, color, or message you desire, allowing you to create a truly unique, eye-catching advertisement for your business.
Why Use Vehicle Wraps for Promotion?
Vehicle wraps offer numerous benefits when it comes to promoting your business.
They're Mobile
One of the biggest benefits of using vehicle wraps is that they are mobile. Your message is no longer confined to a static sign in a single location. With vehicle wraps, you can take your message with you wherever you go, reaching a wider audience and getting more eyes on your brand.
They're Attention-Grabbing
Vehicle wraps are designed to turn heads. They are colorful, vibrant, and impossible to ignore. This means that your branding will get noticed, even in a crowded market.
They're Cost-Effective
When compared to traditional print advertising methods, vehicle wraps are extremely cost-effective. They offer a great return on investment, providing a long-lasting, high-impact advertisement that is seen by thousands of people every day.
They're Easy to Maintain
Vehicle wraps are made to last. They are durable, weather-resistant, and can be easily removed if necessary. Plus, they offer protection for your vehicle's paint, helping to maintain its value for years to come.
Conclusion
Vehicle wraps are a powerful promotion tool that can help take your business to the next level. With their attention-grabbing design and cost-effective nature, there's never been a better time to invest in this highly effective marketing technique. So why wait? Get your vehicle wrapped today and start turning heads with your brand!
In today's competitive business landscape, it's more important than ever to find creative ways to promote your brand. Standing out from the crowd is no easy task, but one highly effective and visually engaging solution is wall graphics. By transforming your walls into captivating promotional spaces, you can leave a lasting impression on your audience. In this blog, we will explore the various benefits of using wall graphics as promotional goods.
1. Eye-catching Visuals
Wall graphics have the power to transform any dull space into a vibrant and attention-grabbing environment. Whether you're looking to attract customers to your retail store, create a productive atmosphere in your office, or add an element of excitement to your event, wall graphics offer endless possibilities. With their high-resolution, colourful designs, they have the ability to pique curiosity and draw attention, making your brand stand out in the market.
2. Versatility at Its Best
One of the biggest advantages of wall graphics is their versatility. They can be customized to match your brand's identity and seamlessly integrate with your existing décor. Whether you want to display your logo, highlight key products or services, showcase your company values, or tell a compelling brand story, wall graphics can accommodate a wide range of promotional messaging. With limitless design options, you can truly make your space your own and create a unique brand experience for your customers.
3. Cost-effective Advertising
Compared to other forms of advertising, wall graphics provide an excellent return on investment. They are a one-time expense that can have a long-lasting impact on your brand visibility. Traditional marketing methods like print advertisements or online campaigns often require ongoing costs and maintenance. On the other hand, once your wall graphics are installed, they require minimal upkeep and can continue to promote your brand for years to come. This makes them a cost-effective solution for businesses of all sizes.
4. Memorable Experiences
Wall graphics have the ability to create memorable experiences for your customers or employees. By incorporating interactive elements into your designs, such as QR codes or augmented reality features, you can encourage engagement and make a lasting impression. Whether it's for a product launch, a trade show booth, or an office lobby, adding an interactive component to your wall graphics will leave a lasting impression and make your brand more memorable.
5. Easy Installation
The process of installing wall graphics is hassle-free, making them a convenient option for promotional goods. With the help of professionals, you can ensure a seamless installation. . This flexibility allows you to adapt your promotional strategy as needed without worrying about long-term commitments or significant expenses.
In conclusion, wall graphics offer a unique way to promote your brand with style. Their eye-catching visuals and versatility make them ideal for creating a memorable brand experience, while their cost-effective nature and easy installation make them a practical choice for promoting your business. By utilizing wall graphics as promotional goods, you can leave a lasting impression on your target audience and set your brand apart from the competition.
So, what are you waiting for? Transform your space today with stunning wall graphics and unleash the promotional power they hold!
TallMan.Promo is a proud sponsor of our local race team featuring driver #92 Kyle Neumeister, TallMan.Promo's racing division!
If you are interested in supporting Kyle on his racing journey, shirts, hats, jackets, and racing flags are available for purchase. Visit https://racing.tallman.promo/ today!
Check out TallMan.Promo Racing at Grand Bend Speedway!
We are more than excited to announce that we have worked with Jerry Rugg aka birdO once again to create an incredible inflatable structure for this year's 2023 Mural Festival – Urban Art Festival in Montreal! We had previously had the pleasure of working with birdO in 2018 for the Nuit Blanche Festival in Toronto Festival. This year we were able to make a custom inflatable with his signature street art aesthetic depicting a bird in its nest. This custom inflatable was created just for birdO, keeping the artist's needs in mind while our hardworking team here at TallMan.Promo put their dreams into reality.
TallMan.Promo is proud to have partnered with birdO on this project, as well as all of the other artists we have had the pleasure of working with in the past. From the initial design to the delivery, this project was a delight.
If you are looking to develop an inflatable art installation, we would be happy to discuss the various options with you. Reach out to a member of our team to start the process. We hope that you consider us for a custom inflatable that will make your next event reach heights you never imagined!
Types of Art Inflatable Sculptures
As the amount of outdoor art festivals and land art projects increase, we get more requests from artists to execute their vision for their artwork piece.
Our products range from small point-of-sale inflatable, to inflatable tents to giant rooftop inflatables that are more than 100 ft. tall. We have extensive experience working with clients from design phase to completion to find the exact size and shape of finished products to bring your message home. We have produced hot air balloon style inflatables, animals, musical-themed inflatables, archways, custom-made tents – nearly every size and shape is possible or we can suggest options. Please see this FAQ section for more technical info on the various types of art inflatables.
For any questions, suggestions, or comments, please contact us at [email protected] We look forward to seeing you at www.tallmanpromo.ca