TallMan.Promo is happy to showcase our past projects with Kitchener-Waterloo Oktoberfest.
Kitchener-Waterloo Oktoberfest takes their passion to the community, so together we were the perfect partners for this project.
Kitchener-Waterloo has been celebrating Oktoberfest since 1969, developing their own traditions. They are quickly becoming the largest Bavarian festival in all of North America, with the greatest Thanksgiving Day Parade in all of Canada! They get thousands of visitors celebrating annually, taking part in the over 40 family and cultural events that are offered.
Take a look at some of our past projects with this exciting event. We have created several wonderful inflatable characters for their Thanksgiving Day Parade and for the events. We have also created additional promotional items, including their fencing mesh banners! Don't miss the 10 foot tall Snyder's of Hanover Pretzel, the giant swan, or Onkel Hans' new puppy, Schnickelfritz!
Above are the custom mesh banners we created for the fencing surrounding the event.
Meet Onkel Hans' new puppy, Schnickelfritz!
Above is the giant swan we created that was used on a float for the parade.
Shown above is the 10 foot tall inflatable Snyder's of Hanover Pretzel as well as the giant inflatable Virgin Radio logo for the parade.
Be sure to check out the festival next year!
TallMan.Promo is your #1 source for all things inflatables, check out our giant inflatables today! We offer custom inflatables for any event or need.
Promotional products have become an integral part of our lives, serving as a powerful marketing tool for businesses worldwide. Have you ever wondered how these humble giveaways evolved and what interesting stories lie behind their existence? In this blog, we'll take a captivating trip through time to uncover the rich history of promotional products, showcasing some compelling and lesser-known facts along the way.
Ancient Beginnings:
Promotional products have been around for centuries, with their roots traced back to ancient civilizations. In ancient Egypt, rulers would distribute personalized tokens engraved with their emblem to retain loyalty amongst subjects. Merchants in ancient Greece would offer small items, such as clay pots, to advertise their goods.
Political Campaigning Through Souvenirs:
The concept of using promotional products for political campaigning emerged in the early 18th century. George Washington, the first President of the United States, utilized commemorative buttons during his election campaign in 1789. These buttons not only boosted his visibility but also fostered a sense of camaraderie among his supporters.
Calendars as Game-Changers:
Calendars have played a significant role in promotional product history. In the late 19th century, businesses started using calendars adorned with their brand logos. These calendars became highly sought after due to their practicality and aesthetic appeal, making them one of the most effective promotional products of that era.
The Birth of the Modern Era:
The advent of mass production techniques in the early 20th century transformed the world of promotional products. Businesses began distributing items like pens, keychains, and notepads, which were relatively affordable to produce. This marked the birth of the modern promotional product industry, setting the stage for its exponential growth in the coming decades.
The Rise of Wearable Promotions:
The past few decades witnessed a surge in wearable promotional items. T-shirts, caps, badges, and lapel pins with brand logos became popular ways for businesses to spread their message. From sports events to trade shows, these wearable promotional treasures garnered attention and increased brand visibility.
Eco-Friendly and Sustainable Promotions:
With growing environmental consciousness, the demand for eco-friendly promotional products has risen steadily. Reusable tote bags, bamboo utensils, and recycled materials are now being incorporated into promotional campaigns. These items not only build brand awareness but also contribute towards a greener planet.
The Digital Age and Promotional Products:
As technology advanced, so did the world of promotional products. Today, businesses leverage digital platforms to create personalized and interactive promotional items. Customizable USB drives, smartphone accessories, and tech gadgets have become go-to choices for companies aiming to cater to a tech-savvy audience.
Fun Facts
Promotional products have been informally called promo products, swag, tchotchkes, or freebies and are now often distributed at events such as festivals, trade shows, conferences, business meetings, company gifts, tours, and even more. in 1904 the Promotional Products Association International (PPAI) was created, which now has over 10, 000 members globally.
Conclusion:
The history of promotional products is a fascinating journey filled with interesting tales of innovation, cultural shifts, and marketing strategies. From ancient tokens of loyalty to modern personalized gadgets, businesses have always found unique ways to promote their brand. Discovering the evolution of promotional products not only deepens our understanding but also piques our interest in the future of this ever-evolving industry. So, the next time you receive a promotional product, remember the rich history behind it and appreciate the creativity that continues to shape this vibrant industry.
Get your promotional products with TallMan.Promo today!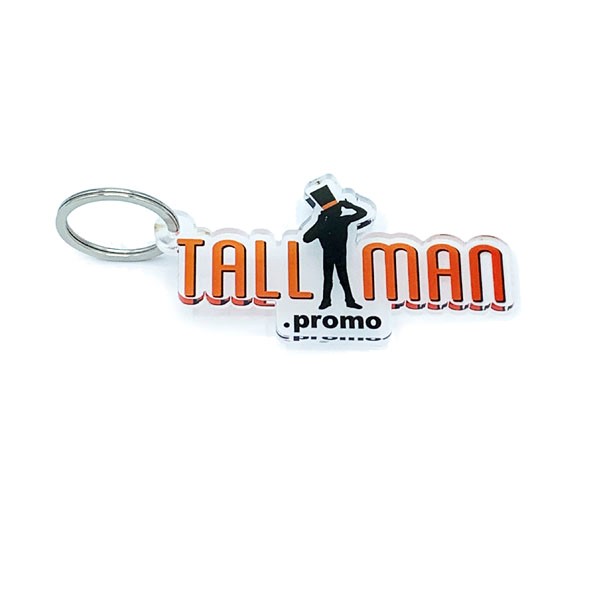 Are you tired of the same old generic trophies and plaques at your events? Do you want to make a lasting impression and create a truly unforgettable experience for your attendees? Look no further! TALLMAN.PROMO is here to revolutionize your event planning with our extraordinary custom awards.
At TALLMAN.PROMO, we understand that events are more than just gatherings; they are opportunities to celebrate excellence, honor achievements, and inspire others. That's why we believe that award presentations should be nothing short of extraordinary, leaving a lasting impression on both the recipients and the audience.
Gone are the days of settling for mainstream, off-the-shelf awards that lack personality and fail to capture the unique spirit of your event. With our custom awards, you have the power to create something truly exceptional, tailored specifically to your event's theme, brand, and audience.
One of the key advantages of our custom awards is versatility. Whether you're organizing a corporate gala, a sports tournament, a non-profit fundraiser, or any other special event, our talented team of designers can bring your vision to life. From sleek and modern designs to elegant and refined creations, we have the expertise to turn your ideas into stunning reality.
Not only do our custom awards offer unmatched visual appeal, but they also boast superior quality. We understand that only the best will do for your event, which is why we use top-quality materials and the latest manufacturing techniques to ensure the durability and lasting beauty of our awards. Whether it's crystal, acrylic, glass, metal, or any other material you desire, we guarantee premium craftsmanship that reflects the excellence of your event.
What truly sets our custom awards apart is the unparalleled level of personalization we offer. With TALLMAN.PROMO, there are no limitations when it comes to design work. We believe that every event is unique, and your awards should be too. From intricate engravings and vibrant color options to incorporating your company logo or event branding, our custom awards can be fully tailored to match your exact specifications, creating a truly one-of-a-kind keepsake for your recipients. Our award styles range from recognition awards, plaques, medals, trophies, custom metal coins, and any other kind of award you desire!
But our commitment to excellence doesn't stop there. At TALLMAN.PROMO, we pride ourselves on delivering exceptional customer service. Our dedicated team of experts will work closely with you every step of the way, ensuring a seamless and stress-free experience. From conceptualizing the design to production and delivery, we'll go above and beyond to make sure that your custom awards exceed your expectations and arrive on time for your event.
In addition to our local presence, our global reach enables us to serve customers around the world, making TALLMAN.PROMO the go-to choice for international events and clients. No matter where you are, we'll make sure that your custom awards arrive safely and in perfect condition.
So, let's unlock the potential of custom awards together and elevate your events to unforgettable heights! Contact TALLMAN.PROMO today and let our innovation, quality, and personalized service transform your event into an extraordinary experience that will be remembered for years to come. With custom awards from TALLMAN.PROMO, your event will be nothing short of extraordinary!
When it comes to making a lasting impression at your event, it's all about thinking outside the box. And what better way to do that than with custom inflatables from TALLMAN.PROMO? These larger-than-life structures are the perfect way to captivate your audience and create a truly unforgettable experience. Let's dive into the world of custom inflatables and discover the endless options and styles that await you!
Mind-Blowing Shapes
At TALLMAN.PROMO, we believe that creativity knows no bounds. That's why we offer a wide range of shapes for your custom inflatables. From towering arches that welcome guests in style to giant replicas of your company logo, the possibilities are limitless. Want to go beyond traditional shapes? We've got you covered with custom inflatable animals, characters, and even products. Let your imagination run wild – if you can dream it, we can create it!
Wow-Worthy Sizes
Size matters when it comes to making a statement. Whether you're hosting a small gathering or a massive event, our custom inflatables come in a variety of sizes to suit your needs. From compact table-top designs that add a touch of flair to your booth, to towering structures that dominate the skyline, we can scale our inflatables to any dimensions you desire. Get ready to make your event larger-than-life!
Vibrant Colors and Graphics
One of the biggest advantages of custom inflatables is the ability to showcase your brand or event's personality through eye-catching colors and graphics. Our team of talented designers will work closely with you to bring your vision to life. From bold and vibrant color palettes to intricate details, we'll ensure that your custom inflatables are a true reflection of your brand. Get ready to turn heads with your stunning visual presentation!
Interactive Elements
Why settle for a static inflatable when you can take it up a notch with interactive elements? TALLMAN.PROMO offers a range of options to engage your audience and create an unforgettable experience. From inflatable slides and obstacle courses to climbing walls and interactive games, we can incorporate elements that keep your guests entertained and eager for more. Go beyond the expected and create an event that people will be talking about for years to come.
Custom inflatables from TALLMAN.PROMO are not only visually stunning but also built to last. We use top-quality materials that are designed to withstand the rigors of outdoor use and heavy foot traffic. This commitment to quality ensures that your custom inflatables not only look impressive but also stand the test of time.
At TALLMAN.PROMO, our mission is to make your event a resounding success. That's why we offer unparalleled customer service throughout the entire process. From concept and design to production and delivery, our dedicated team is with you every step of the way, ensuring that your custom inflatables exceed your expectations.
So why settle for ordinary when you can have extraordinary? With TALLMAN.PROMO's custom inflatables, you have the power to create an event experience that will leave a lasting impression. Get in touch with us today and let's bring your wildest inflatable dreams to life!
Visit our inflatables page on our website to learn more about giant inflatables, arches & tunnels, PVC inflatables, spheres & blimps, as well as dancing inflatables!
TallMan Promo had the opportunity to attend and exhibit at the National Restaurant Association Show this past May in Chicago, representing our custom toothpick brand. The NRAS is the largest gathering of foodservice professionals in the Western hemisphere, with more connection opportunities than any other industry event. There were over 60,000 attendees and 2400 exhibitors this year.
Aaron, J, Lerena and Angela spent four days exhibiting our custom toothpick brand, a simple, inexpensive and yet very effective way to brand your food product to potential customers. Many of our clients were passing out samples with their own custom toothpick flags designed and produced by our team.
The big takeaway from this event is that food industry professionals know how to have a good time and are very passionate about their products. The biggest challenges facing new brands is breaking into an already saturated market. Custom toothpick flags offer a unique way to gain noticeability by branding IN the food itself. We offer many shapes and sizes to accommodate your food or drink.
Most of the fun was exploring Chicago in the evening. From the jaw dropping architecture @skydeckchicago, to visiting "the bean" @millenniumpark, walking in iconic neighborhoods like @Wrigleyville, eating amazing food @Giordano's deep-dish pizza, @Portillo's Italian beef sandwiches, listening to a jazz ensemble @LakesideLounge, happy hour @AsterHall and enjoying beautiful beachside walks.
Check out some photos below from our May 2023 trip to The National Restaurant Association Show in Chicago at McCormick Place!
Are you looking for a unique way to grab the attention of your customers? Look no further than custom toothpick flags! Not only are they an affordable choice, they are also versatile and makes the perfect way to promote your brand. Here are some reasons why you should consider ordering custom toothpick flags for your business.
Branding
Custom toothpick flags are the perfect way to put your brand front and center. You get to personalize your flags with your company logo, name, or any other design that represents your brand. Imagine your customers coming to your restaurant or barbeque, and they get to see your brand on the toothpick flags that come with their food. Everywhere they look, they'll see your brand, and the best part is that they go home with it!

Versatility
Another great reason why you should consider order custom toothpick flags is their versatility. You can place them almost anywhere, from sandwiches to cupcakes. You could also use them at different events and occasions, including weddings, birthdays, and corporate events. Once you've received your custom toothpick flags, you can start brainstorming all the fun ways you'll use them to impress your customers.
Cost-Effective
Custom toothpick flags are budget-friendly, making them incredibly cost-effective when compared to other marketing materials. They are the perfect choice for small businesses just starting, or if you're working on a tight marketing budget. Their affordability means you can order as many or as little as you need, providing endless possibilities to get your brand noticed in the market.
In conclusion, custom toothpick flags make an excellent choice for businesses looking to attract customers and remain competitive. They are versatile, affordable, and allows you to put your brand front and center. Whether you're organizing a corporate event, or just looking for a unique way to add some flair to your sandwiches, custom toothpick flags are the perfect choice for you! So why wait? Contact us today to order your custom toothpick flags and start getting creative!
In today's digital age, e-commerce stores have become increasingly popular among businesses and consumers alike. With the convenience of online shopping and the growing trust in secure transactions, e-commerce has created numerous advantages and opportunities for businesses of all sizes.
Here at TallMan.Promo we offer E-Commerce Store subscriptions, that offers minimal effort needed on your end and maximum potential for success. With your consultation, we handle everything from the design of your store, taking payments, manufacturing your products, and shipping the final product to your clients. Set up a consultation with a member of our sales team to get started today!
Still unsure? Let's explore some of the key benefits of e-commerce stores and the opportunities they offer:
Advantages of E-commerce Stores
Global Reach: One of the biggest advantages of e-commerce stores is the ability to reach customers all around the world. Unlike brick and mortar stores, which are limited by geographical boundaries, e-commerce allows businesses to target a global audience. This opens up tremendous opportunities to expand customer base and increase sales potential.
24/7 Availability: E-commerce stores operate round the clock, providing customers with the convenience to browse and make purchases at any time. This allows businesses to generate revenue even when their physical stores are closed. Additionally, customers also benefit from the flexibility to shop at their own convenience, making e-commerce a win-win for both businesses and consumers.
Cost Savings: Running an e-commerce store can significantly reduce overhead costs compared to traditional retail stores. Expenses like rent, utilities, and staff can be greatly reduced or even eliminated. This cost-saving advantage allows businesses to allocate resources more efficiently, invest in marketing and enhance product offerings, ultimately leading to higher profits.
Personalization and Targeted Marketing: E-commerce stores enable businesses to collect and analyze customer data, allowing for personalized marketing campaigns. By tailoring promotions and recommendations based on customer preferences, e-commerce stores can provide a personalized shopping experience, leading to increased customer satisfaction and repeat purchases.
Scalability and Flexibility: E-commerce stores offer businesses the ability to scale up or down rapidly to meet changing market demands. With the right infrastructure in place, businesses can easily expand product range, storage capacity, or even enter new markets. This flexibility is crucial in today's fast-paced business environment, where agility is key to staying competitive.
Opportunities offered by E-commerce Stores
Niche Markets: E-commerce presents an opportunity for businesses to tap into niche markets that may not be economically feasible for traditional retail stores. By offering specialized products or catering to specific customer segments, businesses can leverage the power of e-commerce to reach a highly targeted audience and create a loyal customer base.
Mobile Commerce: With the increasing use of smartphones and mobile devices, mobile commerce (m-commerce) has emerged as a significant opportunity for e-commerce stores. By optimizing their websites for mobile devices and developing dedicated mobile apps, businesses can tap into the growing number of customers who prefer to shop on their phones. M-commerce offers convenience, accessibility, and a seamless shopping experience on the go.
Social Commerce: Social media platforms have become not only a means of communication but also a channel for shopping. E-commerce stores can leverage social media networks to reach and engage with customers, showcase products, and drive sales. With the right social media marketing strategies, businesses can tap into the vast potential of social commerce and use it as a powerful tool for brand building and revenue generation.
Customer Analytics: E-commerce stores provide valuable customer data that can be leveraged for targeted marketing and business insights. By analyzing customer behavior, preferences, and buying patterns, businesses can gain a deeper understanding of their target audience and make data-driven decisions. This data-driven approach allows businesses to optimize product offerings, marketing campaigns, and overall customer experience.
Partnership and Collaboration: E-commerce opens up opportunities for businesses to collaborate with other companies or influencers in the industry. By forming partnerships, businesses can tap into each other's customer base, cross-promote products, and leverage shared resources and expertise. Collaborations can be in the form of co-marketing campaigns, affiliate programs, or strategic alliances, leading to increased brand visibility and customer acquisition.
In conclusion, e-commerce stores offer numerous advantages and opportunities for businesses to thrive in today's digital marketplace. The global reach, cost savings, 24/7 availability, personalized marketing, scalability, and flexibility of e-commerce contribute to its growing popularity. Moreover, opportunities like niche markets, mobile commerce, social commerce, customer analytics, and partnerships provide businesses with the potential for growth, increased revenue, and competitive advantage. By embracing e-commerce, companies can unlock new avenues for success in the digital era.
Set up a consultation with a member of our sales team to get started today!
Tall Man Promo had the pleasure of working alongside Atlas Global Brands to create the display units for D*gg Lbs, Snoop Dogg's newest cannabis products which will be sold throughout Canada, Israel, and will be coming soon to the United States of America. Our team was also working alongside this talented team to create stickers, as well as a retractable banner and podium sleeve for the product launch.
This 3-Dimensional product display was designed in collaboration with Atlas Global Brands and our very own, Matt Cooper, based upon Snoop Dogg's career, past experiences and interests. The final free-standing display unit was created with laser cut acrylic and vinyl to create a 3-dimensional effect, illuminated with blue backing lights and a brightly coloured design.
Check out some pictures from their launch below!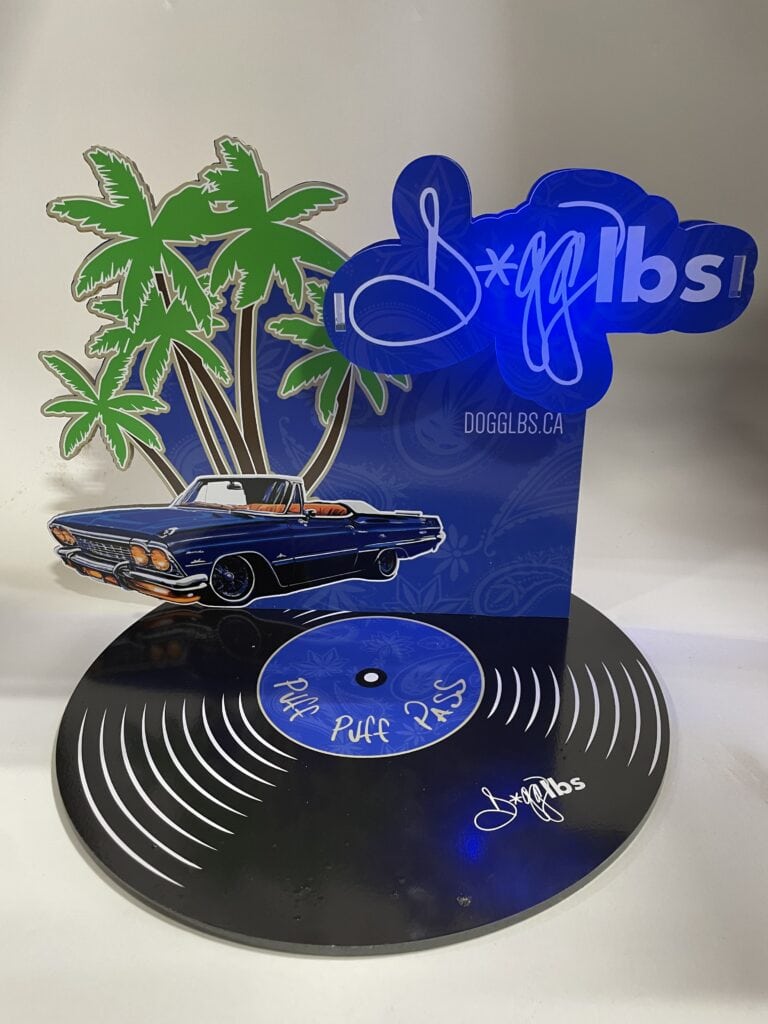 Custom apparel has been a growing trend in recent years. More and more businesses and individuals are turning to custom apparel to promote their brand, generate revenue, and build camaraderie. This creative route offers a variety of benefits that make it a smart choice for anyone looking to showcase their brand, event, or personal style.
Benefits of Custom Apparel
Promotes Brand Awareness
One of the biggest benefits of custom apparel is that it promotes brand awareness. Putting your logo on a t-shirt, hoodie, or hat can create a walking billboard for your brand. Custom attire is a cost-effective way to get your brand in front of more people, whether it's at events, trade shows, or everyday wear.
Builds Camaraderie
Custom gear can also be used to build camaraderie among groups. Whether it's a sports team, a volunteer group, or a work team, having matching custom garments can help create a sense of unity and teamwork. It can also help create a sense of belonging and pride in being part of the group.
Generates Revenue
Custom apparel can also be used to generate revenue. Whether it's selling shirts at events or online, custom apparel can be a profitable venture. With so many options for customization, you can create unique items that people are willing to pay for.
Differentiates from Competitors
Custom apparel can also help differentiate your brand from competitors. By creating custom designs that reflect your brand's personality and values, you can stand out in a crowded marketplace. Custom apparel can be a valuable tool in creating a unique brand identity that resonates with your customers.
Conclusion
Custom apparel offers a wide range of benefits for businesses, organizations, and individuals. From promoting brand awareness to building camaraderie, custom apparel can help achieve a variety of goals. With so many customization options available, it's easy to create unique items that reflect your brand's personality and values. In short, custom apparel is a smart choice for anyone looking to showcase their brand, promote an event, or build camaraderie.
CLICK HERE to start your custom apparel order now!
If you're looking for a way to promote your business that is sure to turn heads, look no further than vehicle wraps. These eye-catching, attention-grabbing signs can be attached to any vehicle, turning it into a mobile billboard that promotes your brand wherever it goes.
What are Vehicle Wraps?
First things first, what exactly are vehicle wraps? Essentially, they are vinyl sheets that are designed to fit over a vehicle's exterior, completely covering the paint and creating a blank canvas for your branding. These wraps can be customized with any design, color, or message you desire, allowing you to create a truly unique, eye-catching advertisement for your business.
Why Use Vehicle Wraps for Promotion?
Vehicle wraps offer numerous benefits when it comes to promoting your business.
They're Mobile
One of the biggest benefits of using vehicle wraps is that they are mobile. Your message is no longer confined to a static sign in a single location. With vehicle wraps, you can take your message with you wherever you go, reaching a wider audience and getting more eyes on your brand.
They're Attention-Grabbing
Vehicle wraps are designed to turn heads. They are colorful, vibrant, and impossible to ignore. This means that your branding will get noticed, even in a crowded market.
They're Cost-Effective
When compared to traditional print advertising methods, vehicle wraps are extremely cost-effective. They offer a great return on investment, providing a long-lasting, high-impact advertisement that is seen by thousands of people every day.
They're Easy to Maintain
Vehicle wraps are made to last. They are durable, weather-resistant, and can be easily removed if necessary. Plus, they offer protection for your vehicle's paint, helping to maintain its value for years to come.
Conclusion
Vehicle wraps are a powerful promotion tool that can help take your business to the next level. With their attention-grabbing design and cost-effective nature, there's never been a better time to invest in this highly effective marketing technique. So why wait? Get your vehicle wrapped today and start turning heads with your brand!
In today's competitive business landscape, it's more important than ever to find creative ways to promote your brand. Standing out from the crowd is no easy task, but one highly effective and visually engaging solution is wall graphics. By transforming your walls into captivating promotional spaces, you can leave a lasting impression on your audience. In this blog, we will explore the various benefits of using wall graphics as promotional goods.
1. Eye-catching Visuals
Wall graphics have the power to transform any dull space into a vibrant and attention-grabbing environment. Whether you're looking to attract customers to your retail store, create a productive atmosphere in your office, or add an element of excitement to your event, wall graphics offer endless possibilities. With their high-resolution, colourful designs, they have the ability to pique curiosity and draw attention, making your brand stand out in the market.
2. Versatility at Its Best
One of the biggest advantages of wall graphics is their versatility. They can be customized to match your brand's identity and seamlessly integrate with your existing décor. Whether you want to display your logo, highlight key products or services, showcase your company values, or tell a compelling brand story, wall graphics can accommodate a wide range of promotional messaging. With limitless design options, you can truly make your space your own and create a unique brand experience for your customers.
3. Cost-effective Advertising
Compared to other forms of advertising, wall graphics provide an excellent return on investment. They are a one-time expense that can have a long-lasting impact on your brand visibility. Traditional marketing methods like print advertisements or online campaigns often require ongoing costs and maintenance. On the other hand, once your wall graphics are installed, they require minimal upkeep and can continue to promote your brand for years to come. This makes them a cost-effective solution for businesses of all sizes.
4. Memorable Experiences
Wall graphics have the ability to create memorable experiences for your customers or employees. By incorporating interactive elements into your designs, such as QR codes or augmented reality features, you can encourage engagement and make a lasting impression. Whether it's for a product launch, a trade show booth, or an office lobby, adding an interactive component to your wall graphics will leave a lasting impression and make your brand more memorable.
5. Easy Installation
The process of installing wall graphics is hassle-free, making them a convenient option for promotional goods. With the help of professionals, you can ensure a seamless installation. . This flexibility allows you to adapt your promotional strategy as needed without worrying about long-term commitments or significant expenses.
In conclusion, wall graphics offer a unique way to promote your brand with style. Their eye-catching visuals and versatility make them ideal for creating a memorable brand experience, while their cost-effective nature and easy installation make them a practical choice for promoting your business. By utilizing wall graphics as promotional goods, you can leave a lasting impression on your target audience and set your brand apart from the competition.
So, what are you waiting for? Transform your space today with stunning wall graphics and unleash the promotional power they hold!