A barrel full of monkeys is popping up in Old Market Square… Don't miss out or you'll get caught red-handed!
Run, walk, ride, or roll through the Exchange where inflatables created by local artist Paul Robles will light up Old Market Square. The curved forms will lead you through a snake-like path and make you wonder, why are monkeys building pyramids in the Exchange? Why are their hands red? Are they ghosts of a pre-pandemic social scene?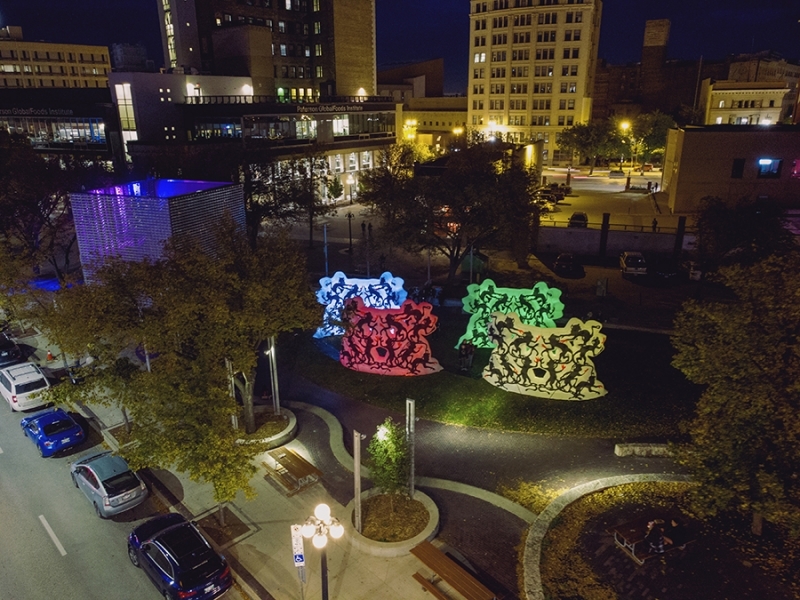 See Hear Speak was conceived of during the pandemic and is intended to interrupt the quiet of a once thriving gathering place. It is an oddity calling for attention, conjuring a magnetic contradiction that highlights and denies the human experience of contact, folly, and closeness. The playful shapes are layered with monkeys and meaning to suggest team bonding exercises, sporty cheer(leaders), religious divination, and even fraternity hazing. Echoing society's current unease, the title invokes the proverb of the Three Wise Monkeys and how the threat of isolation and despair can lead to compulsive diversion.
The temporary inflatables, commissioned through Winnipeg's Public Art Program with support from the Winnipeg Foundation and presented by Winnipeg Arts Council, were installed September 25 – October 3 2021 in Old Market Square.
Tallman.Promo is proud to have partnered with the artist on this project. Thanks to the Winnipeg Arts Council for supporting the collaboration with the artist and to True North Sports and Entertainment for the loan of production supplies.
From the initial design to the 3D models, from the LED lighting to the blower locations, this project was a delight.
If you are looking to develop an inflatable art installation, we would be happy to discuss the various options with you. Reach out to one of our account managers to start the process.
After several months of hard work and dedication, we are thrilled to officially announce that our new Canadian website is now Live! We invite you to visit us at www.TallManPromo.ca
We have built our new website with you in mind. The streamlined user interface provides a more interactive experience, allowing our clients and prospects to easily find the information they are looking for. Visitors can browse the website based on their own interests to meet our team and learn more about our services, explore our project portfolio and read on our blog.
To celebrate our 10ft Feather Flags are 25% off for the next 2 weeks!
We invite you to connect with us on Social Media to stay engaged in our continued growth and collaboration. Additionally, be sure to check this BLOG section of our website for updates, blog posts, company announcements and featuring stories of client successes.
We hope that you enjoy the fresh look and feel of our updated website. Thanks to the entire TallMan.Promo team, their hard work and dedication, they made our new website a reality.
For any questions, suggestions, or comments, please contact us at [email protected]
We look forward to seeing you at www.tallmanpromo.ca
Looking to raise the awareness and impact of their brand at their events, Kiwanis International asked us to create a 10ft high inflatable version of their logo.
After enquiring with their local organizations in North-America and Europe, a volume order was placed. After we received the artwork, we made swatches of fabric to ensure we achieved the correct colours and our designers made a 3D model to be reviewed with the client.
About Kiwanis International
Kiwanis helps kids around the world. Local clubs look out for our communities and the international organization takes on large-scale challenges, such as fighting disease and poverty.

For more than a century, Kiwanis has created opportunities for children to be curious, safe and healthy regardless of the community in which they live. When you give a child the chance to learn, experience, dream, grow, succeed and thrive, great things can happen.
About TallMan.Promo
We aspire to be your #1 Source for Event Marketing Products. This means your items must be the right colours, the right imprint, and in your hands on time.
Our experienced team specializes in unique product ideas for epic events. From our humble beginnings in 2005, designing and creating giant advertising inflatable balloons, to adding custom flags and canopies, to now a full portfolio of products including awards, apparel and promotional gear.
The TallMan.Promo difference - we do our own designing, printing, warehousing, cutting, sewing, laser cutting, packing, kitting, engraving and customer service in-house. You can come meet with us, and we are happy to show you our machines and our showroom. This do-it-yourself attitude results in a enquiry-to-delivery process that is managed by us and allows us to control the products and the delivery time. We know your events do not wait for us to catch up. We want our clients to not worry about deadlines, and instead put that energy into the success of their event.
Looking to start an inflatable project for your own organization? Feel free to contact one of our account managers now!
Inflatable advertising is a great way to create larger than life replicas that can be seen from a distance and generate a great amount of attention for various media forms. For this project we were excited to get to be a part of the advertising campaign for the highly anticipated Borat 2 film, being released on amazon prime video on October 23rd 2020. From the start deadlines the deadlines were tight and the risks were high, however the project was one our team felt we really wanted to be apart of.
Starting a mere 8 days before the inflatable was to set sail in the Toronto  harbour, we were contacted with the rush project and artwork to produce a larger than life inflatable replica of the famous Sasha Baron Cohen character of Borat.  The idea for this campaign was to have the large inflatable set sail on a barge through not only Toronto but other major cities around the world including New York, London UK to promote the launch of the new Borat 2 film.
Once the 40ft wide by 20ft high inflatable was created the team was then tasked to transport and install the unit on a large barge where it would set sail and capture the eye of media and individuals. While our team was hoping for a calm and perfect day weather wise, the advertising and marketi
teams involved may have hoped for high winds for the
giant floating inflatable to have a viral "take off" and grab the attention of individuals and media outlets everywhere. In order to properly install this unit our team had to properly position the inflatable and using a series of straps, hooks and air blowers we were able to adjust on the fly the positioning of Borat's arms and legs and create the experience we have all come to talk about.
The original Borat and now Borat 2 films are controversial comedy mockumentaries which, touch on sensitive subjects in today's world. The most evident regarding the COVID-19 outbreak and the constant debate over the usage of masks for safety reasons. While maybe unnoticeable at first glance, the small "man-kini" the Borat character was wearing was actually a large version of the most common medical mask.
A huge thank you from our team goes out to Silver Lining Design Group for being an amazing client, allowing us to be a part of this huge project, working together with us and trusting us to deliver. Additional thanks goes out to Event Eleven and Pop! Events group for all the support and help with this project as well.https://www.youtube.com/embed/Czxeq9fQTXI?feature=oembed
The team at Tallman.Promo is all looking forward to the release of Borat Subsequent Moviefilm to enjoy laughs and memories of the project.
Gallery Stratford is now selling tote bags made from the recycled banners that once advertised past art exhibitions at the gallery.Galen Simmons, The Stratford Beacon Herald, Publishing date:Feb 07, 2021 Original article here. Gallery Stratford has partnered with Stratford's Tall Man Promo to create unique tote bags made from recycled banners from the art gallery's past exhibitions. Pictured, Gallery Stratford director/curator Angela Brayham and Tallman owner J. Oosterom show off some of the bags now available for purchase at $25 apiece. Galen Simmons/The Beacon Herald/Postmedia Network Supporters of Gallery Stratford can now take a piece of its history home in the form of tote bags made from recycled banners once used to advertise past exhibits.
The bags, being sold for $25 apiece while supplies last in support of future gallery exhibitions and programming, are the result of a partnership between Gallery Stratford and Stratford marketing and design company TallMan.Promo.
"When we decided to reopen in August, I wanted to do banners outside. (Tall Man owner) J. Oosterom and I have partnered on various projects to support the gallery, and I asked him if he can do the banners for me," Brayham said. "So when we were hanging them, we started talking (and) the one thing I hate about that kind of product is they just go to landfill. We've got this three-month use and then what do you do with this banner?"

Having recently rediscovered a number of these vinyl banners that had been stored instead of thrown away, Brayham and Oosterom came up with the idea of repurposing them into what Brayham called wearable art pieces.
"Fifteen years ago, we started doing inflatable advertising, so we do fabric and sewing for those. … This is something that is relatively simpler than doing large inflatables, so we kind of said, 'All right, let's figure this out,'" " Oosterom said. "The number of bags we get out of a banner depends actually on how well the banner has survived over the time period."

The number of bags Oosterom and his team can create out of a single banner also depends on how much of the banner is covered in usable design as opposed to blank space.

"They've kind of got this artsy, industrial chic … and what I'm going to do with every bag I sell, I will stick the catalogue or the handout from that show (those banners) came from. So in case you didn't see the show, you'll have the context for where that little piece of artwork came from. … So hopefully, people will start wearing these around town and they'll be able to recognize, 'Oh, my bag goes with that bag.' So I think it's kind of this neat sort of way of connecting people as well," Brayham said.

While supplies of the bags made from existing banners are limited, Brayham said her goal now is to have Oosterom and his team create tote bags from new exhibition banners. That will keep the material out of landfill while giving patrons a way to show their support for the gallery.

For more information or to purchase a bag, call Gallery Stratford at 519-271-5271 or email Brayham at [email protected].
Blankets to keep your clients or employees warm and comfortable are one of our most popular items right now. Starting at US$28.95 and CDN$35.95 our custom flannel blanket is a super-soft lifestyle companion with a difference.
Supersized at 42"x62", this custom blanket can express your brand's personality with a superb print of your most cherished photo or branded with your organization's custom colors and artwork.
Wrap yourself in memories with the best photo blankets for Canada and the US.
Products Specs for our TallMan.Promo Custom Blanket:
Fantastically rich colors that draw the eye
Finest manufacturing quality for maximum comfort
Odorless and hypoallergenic photo print
Machine washable at low temperatures
Sizes 42" x 62"
Questions? Feel free to contact one of our account managers now!
The year was one of adaptation and change. There are still so many unknowns for 2021 however, change and adaptation will remain. Whatever lies ahead, we'll be here when you need us. Here is what you can expect from us in the new year.
To better deal with delivery times we are looking to add more machines to our roster, allowing us to insource more and speed up delivery times;
Increased inventory levels of core items to be able to absorb fluctuations in demand;
Move to online ordering and payment for those who want this;
A wider portfolio of products to cater to a variety of events
We are committed to serve you better! Thank you all for your patronage.
Santa Inflatable for Quadreal at Marche Central in Montreal, QC.
Merry Christmas and a very happy New Year,

On behalf of everybody at TallMan.Promo


Jeroen 'J' Oosterom
CEO TMP International ltd.
It is so good to write again about beautiful, smart and impactful events, rather than PPE, Masks and Plexiglass Barriers (though we still gets lots of orders for all these at www.covid19signs.info). It is always a pleasure to do projects in 'la belle province' Quebec in Canada, but it had been a while since our installers were travelling to do an inflatable set up. Check out this custom printed pumpkin inflatable replica, designed, manufactured and installed in 2 weeks time at Quadreal's Marche Central location in Montreal by the team at TallMan.Promo.
Shopping center Marche Central wanted to bring some extra attention and holiday cheer to their outdoor retail enviroment.
Each year, the Centre welcomes some 10 million visitors! With an area of 1 million square feet and 60 tenants, Marché Central is one of the top power centres in Canada, situated near the intersection of Highways 15 and 40 in Montreal.
Marche Central is managed by Quadreal. Headquartered in Vancouver, Canada, QuadReal Property Group is a global real estate investment, operating and development company. QuadReal manages the real estate and mortgage programs of British Columbia Investment Management Corporation (BCI), one of Canada's largest asset managers with a $153.4 billion portfolio.

The entire inflatable is sublimation printed to match the Marche Central color scheme. Check out this massive pumpkin before it gets replaced by the next installation around the beginning of November. Despite the rush nature of the project, this was an fun and amazing product to work on. Thanks to the amazing client and their wonderful team in Montreal. We can't wait to see what they will come up with next!
Inspired to do your own custom inflatable campaign? Give an account manager at TallMan.Promo a call today!
Due to the increased demand for social distancing floor markers and related covid19 signage, we have created covid19signs.info for easy online ordering. We got some new PPE items in we are happy to share with you.
Please check our portfolio of custom printed masks, acrylic barriers, floor graphics, signage and sanitizer dispensers on Covid19signs.info. If you have custom requirements for graphics and/or dimensions, please let us know.https://www.youtube.com/embed/_BpT31XyqSI
Covid19signs.info carries a great selection of Covid-19 PPE. Great prices, friendly service and fast delivery. Shop now for all your Covid-19 PPE needs.
Some things to consider when implementing your organisations Covid-19 strategy:
What is physical distancing?
Physical distancing, sometimes known as "social distancing", is about keeping a safe distance from others. Physical distancing means remaining two metres away from other people. This is important to help protect us from COVID-19, which spreads via droplets from coughing and sneezing.
Staying two metres away from others is an effective measure.

General Working Arrangements
• Keep team sizes as small as possible.
• Keep a record of who is in each team every day as you may be
required to track back for contact tracing.
• Site teams are encouraged to put forward split/alternating shifts to
avoid extensive intermingling to reduce potential of exposure.
• Work site is to be segregated into zones (or by other methods) as
much as possible to keep different teams/trades physically separated
at all times.
• Where possible, apply a one-way system in high-traffic areas, such as
lifts, stairwells and scaffolds.
• Where practical, all office employees supporting a project work
remotely.
• When using a vehicle, limit this to one person per vehicle if possible
Site Entry
• Limit visitors to site where ever possible.
• Introduce staggered start and finish times where possible to reduce congestion and contact.
• Monitor site access points to enable physical distancing – you may need to change the number of access points, increase to reduce congestion or decrease to enable monitoring.
• Where entry systems that require skin contact e.g. fingerprint scanners are used, a guide must be followed.
• Require all workers to wash or clean their hands before entering and leaving the site.
• Allow plenty of space (two metres) between people waiting to enter site.
• Regularly clean common contact surfaces in reception, office, access control and delivery areas e.g. scanners, turnstiles, screens, telephone handsets, desks, particularly during peak flow times.
• Where possible, conduct a remote induction before arrival on site, this can be done via video conferencing or by phone. If an in-person induction is required, reduce number of people and hold them outdoors wherever possible.
Site Meetings
• Only absolutely necessary meeting participants should attend.
• Attendees should be two metres apart from each other
• Rooms should be well ventilated / windows opened to allow fresh air circulation.
• Hold meetings in open areas where possible.
• Meetings are to be held through teleconferencing or videoconferencing where possible.
Hand Washing
• Provide additional hand washing facilities to the usual welfare facilities on large, spread out sites or significant numbers of personnel on site.
• Ensure soap and fresh water is readily available and kept topped up at all times.
• Provide hand sanitizer where hand washing facilities are unavailable.
• Regularly clean the hand washing facilities and check soap and sanitizer levels.
• Sites will need extra supplies of soap, hand sanitizer and paper towels and these should be securely stored.
Please contact one of our TallMan.Promo representatives for any additional questions about our products.
Special Olympics Texasrecently held their Law Enforcement Torch Runs.
The Tallman.promo team were happy to work with Special Olympics Texas to produce 10 custom printed inflatable arches that were used in the cities of Pflugerville, Lubbock, Webster, Hurst and San Antonio.
The torch run is the largest public awareness and grassroots fundraising endeavour for the Special Olympics organization as a whole.
Law enforcement officers across the globe carry the 'Flame of Hope' through the streets of their local community, raising awareness and building a spirt of teamwork along the way.
The LETR program first began in 1981in Wichita, Kansas by Police Chief Richard LaMunyon. It has raised more than $800 million.
Our TallMan.Promo arches act as a means of finding your way around an event, at entrance ways and they are perfect as start and finish markers. Their sheer size makes them easily recognizable and they act as a great way to deliver an important message or to recognize sponsors. They range from plain colours, to fully printed, to custom shapes and sizes. We at Tallman.promo have seen them used as start and finish markers, event entrance ways, main stage overhangs and much more.
Our TMP team has teamed up with businesses and organizations in the private and public sector to produce arches for events. We are proud partners in the Special Olympics torch run.
Inspired to do your own custom inflatable campaign? Give an account manager at TallMan.Promo a call today!