TallMan Promo had the opportunity to attend and exhibit at the National Restaurant Association Show this past May in Chicago, representing our custom toothpick brand. The NRAS is the largest gathering of foodservice professionals in the Western hemisphere, with more connection opportunities than any other industry event. There were over 60,000 attendees and 2400 exhibitors this year.
Aaron, J, Lerena and Angela spent four days exhibiting our custom toothpick brand, a simple, inexpensive and yet very effective way to brand your food product to potential customers. Many of our clients were passing out samples with their own custom toothpick flags designed and produced by our team.
The big takeaway from this event is that food industry professionals know how to have a good time and are very passionate about their products. The biggest challenges facing new brands is breaking into an already saturated market. Custom toothpick flags offer a unique way to gain noticeability by branding IN the food itself. We offer many shapes and sizes to accommodate your food or drink.
Most of the fun was exploring Chicago in the evening. From the jaw dropping architecture @skydeckchicago, to visiting "the bean" @millenniumpark, walking in iconic neighborhoods like @Wrigleyville, eating amazing food @Giordano's deep-dish pizza, @Portillo's Italian beef sandwiches, listening to a jazz ensemble @LakesideLounge, happy hour @AsterHall and enjoying beautiful beachside walks.
Check out some photos below from our May 2023 trip to The National Restaurant Association Show in Chicago at McCormick Place!
Are you looking for a unique way to grab the attention of your customers? Look no further than custom toothpick flags! Not only are they an affordable choice, they are also versatile and makes the perfect way to promote your brand. Here are some reasons why you should consider ordering custom toothpick flags for your business.
Branding
Custom toothpick flags are the perfect way to put your brand front and center. You get to personalize your flags with your company logo, name, or any other design that represents your brand. Imagine your customers coming to your restaurant or barbeque, and they get to see your brand on the toothpick flags that come with their food. Everywhere they look, they'll see your brand, and the best part is that they go home with it!

Versatility
Another great reason why you should consider order custom toothpick flags is their versatility. You can place them almost anywhere, from sandwiches to cupcakes. You could also use them at different events and occasions, including weddings, birthdays, and corporate events. Once you've received your custom toothpick flags, you can start brainstorming all the fun ways you'll use them to impress your customers.
Cost-Effective
Custom toothpick flags are budget-friendly, making them incredibly cost-effective when compared to other marketing materials. They are the perfect choice for small businesses just starting, or if you're working on a tight marketing budget. Their affordability means you can order as many or as little as you need, providing endless possibilities to get your brand noticed in the market.
In conclusion, custom toothpick flags make an excellent choice for businesses looking to attract customers and remain competitive. They are versatile, affordable, and allows you to put your brand front and center. Whether you're organizing a corporate event, or just looking for a unique way to add some flair to your sandwiches, custom toothpick flags are the perfect choice for you! So why wait? Contact us today to order your custom toothpick flags and start getting creative!
Tall Man Promo had the pleasure of working alongside Atlas Global Brands to create the display units for D*gg Lbs, Snoop Dogg's newest cannabis products which will be sold throughout Canada, Israel, and will be coming soon to the United States of America. Our team was also working alongside this talented team to create stickers, as well as a retractable banner and podium sleeve for the product launch.
This 3-Dimensional product display was designed in collaboration with Atlas Global Brands and our very own, Matt Cooper, based upon Snoop Dogg's career, past experiences and interests. The final free-standing display unit was created with laser cut acrylic and vinyl to create a 3-dimensional effect, illuminated with blue backing lights and a brightly coloured design.
Check out some pictures from their launch below!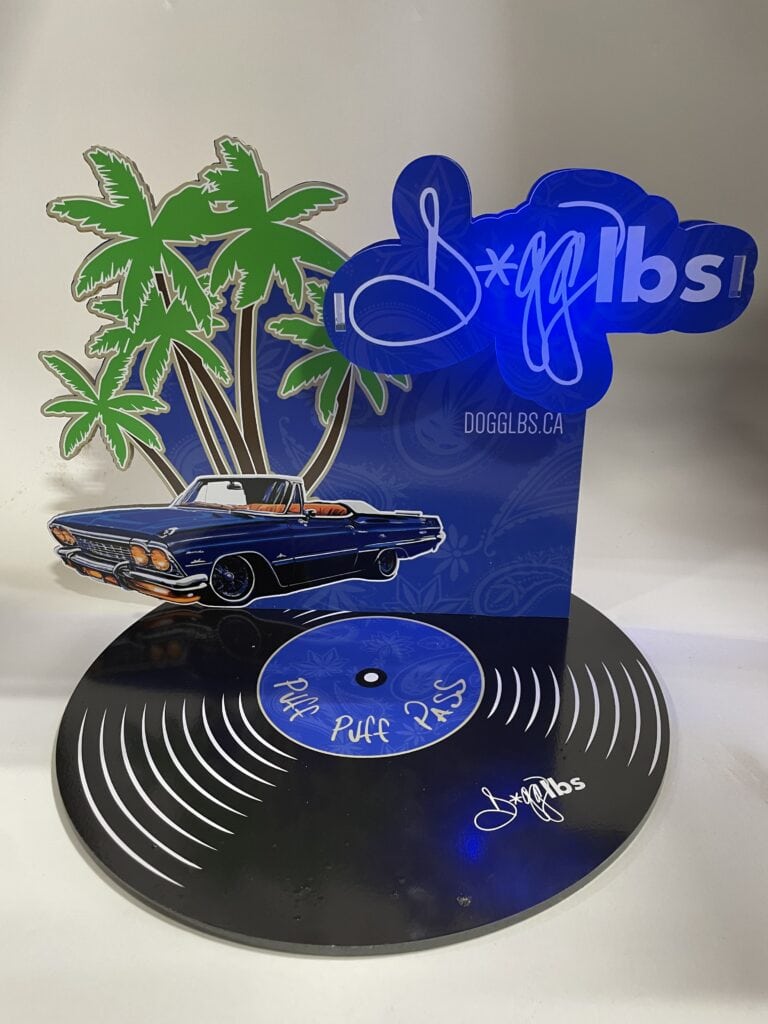 If you're looking for a way to promote your business that is sure to turn heads, look no further than vehicle wraps. These eye-catching, attention-grabbing signs can be attached to any vehicle, turning it into a mobile billboard that promotes your brand wherever it goes.
What are Vehicle Wraps?
First things first, what exactly are vehicle wraps? Essentially, they are vinyl sheets that are designed to fit over a vehicle's exterior, completely covering the paint and creating a blank canvas for your branding. These wraps can be customized with any design, color, or message you desire, allowing you to create a truly unique, eye-catching advertisement for your business.
Why Use Vehicle Wraps for Promotion?
Vehicle wraps offer numerous benefits when it comes to promoting your business.
They're Mobile
One of the biggest benefits of using vehicle wraps is that they are mobile. Your message is no longer confined to a static sign in a single location. With vehicle wraps, you can take your message with you wherever you go, reaching a wider audience and getting more eyes on your brand.
They're Attention-Grabbing
Vehicle wraps are designed to turn heads. They are colorful, vibrant, and impossible to ignore. This means that your branding will get noticed, even in a crowded market.
They're Cost-Effective
When compared to traditional print advertising methods, vehicle wraps are extremely cost-effective. They offer a great return on investment, providing a long-lasting, high-impact advertisement that is seen by thousands of people every day.
They're Easy to Maintain
Vehicle wraps are made to last. They are durable, weather-resistant, and can be easily removed if necessary. Plus, they offer protection for your vehicle's paint, helping to maintain its value for years to come.
Conclusion
Vehicle wraps are a powerful promotion tool that can help take your business to the next level. With their attention-grabbing design and cost-effective nature, there's never been a better time to invest in this highly effective marketing technique. So why wait? Get your vehicle wrapped today and start turning heads with your brand!
In today's competitive business landscape, it's more important than ever to find creative ways to promote your brand. Standing out from the crowd is no easy task, but one highly effective and visually engaging solution is wall graphics. By transforming your walls into captivating promotional spaces, you can leave a lasting impression on your audience. In this blog, we will explore the various benefits of using wall graphics as promotional goods.
1. Eye-catching Visuals
Wall graphics have the power to transform any dull space into a vibrant and attention-grabbing environment. Whether you're looking to attract customers to your retail store, create a productive atmosphere in your office, or add an element of excitement to your event, wall graphics offer endless possibilities. With their high-resolution, colourful designs, they have the ability to pique curiosity and draw attention, making your brand stand out in the market.
2. Versatility at Its Best
One of the biggest advantages of wall graphics is their versatility. They can be customized to match your brand's identity and seamlessly integrate with your existing décor. Whether you want to display your logo, highlight key products or services, showcase your company values, or tell a compelling brand story, wall graphics can accommodate a wide range of promotional messaging. With limitless design options, you can truly make your space your own and create a unique brand experience for your customers.
3. Cost-effective Advertising
Compared to other forms of advertising, wall graphics provide an excellent return on investment. They are a one-time expense that can have a long-lasting impact on your brand visibility. Traditional marketing methods like print advertisements or online campaigns often require ongoing costs and maintenance. On the other hand, once your wall graphics are installed, they require minimal upkeep and can continue to promote your brand for years to come. This makes them a cost-effective solution for businesses of all sizes.
4. Memorable Experiences
Wall graphics have the ability to create memorable experiences for your customers or employees. By incorporating interactive elements into your designs, such as QR codes or augmented reality features, you can encourage engagement and make a lasting impression. Whether it's for a product launch, a trade show booth, or an office lobby, adding an interactive component to your wall graphics will leave a lasting impression and make your brand more memorable.
5. Easy Installation
The process of installing wall graphics is hassle-free, making them a convenient option for promotional goods. With the help of professionals, you can ensure a seamless installation. . This flexibility allows you to adapt your promotional strategy as needed without worrying about long-term commitments or significant expenses.
In conclusion, wall graphics offer a unique way to promote your brand with style. Their eye-catching visuals and versatility make them ideal for creating a memorable brand experience, while their cost-effective nature and easy installation make them a practical choice for promoting your business. By utilizing wall graphics as promotional goods, you can leave a lasting impression on your target audience and set your brand apart from the competition.
So, what are you waiting for? Transform your space today with stunning wall graphics and unleash the promotional power they hold!